Emseal Colorseal System (also known as Emseal Seismic Colorseal)
Emseal® Colorseal® System - Emseal Colorseal is also known as 'Emseal Seismic Colorseal', which came about because it was often used in seismic zones of the USA and was referred to by users as 'the seismic expansion joint sealing system" because of its high joint movement capability of 100% – So we have adopted it too!
Typically, the Emseal Colorseal system is used in external facades and parapet walls for example, where it is suitable for both single and double-sided wide and/or high movement joint sealing applications, meaning it is suitable as a primary and/or secondary joint sealing solution, according to structural design and exposure requirements. In terms of joint installation and performance, the Emseal Colorseal system is extremely useful to designers because with no invasive mechanical fixings, it provides a watertight sealed joint, with considerable joint movement capability of up to 100%, which will accommodate up to +/- 50% movement of the joint width e.g. plus (+) or minus (-) 50mm for a 100mm wide vertical expansion joint.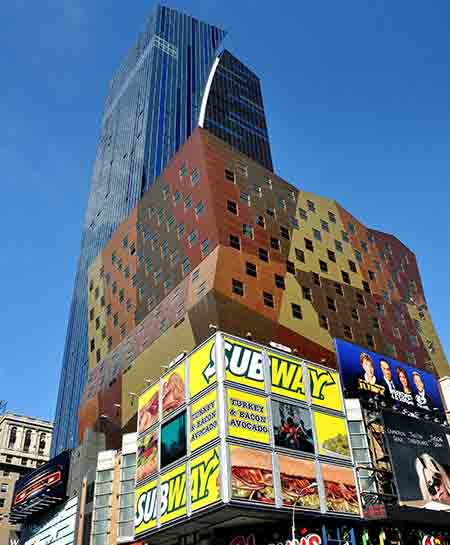 This highly elastic performance, combined with its ease of installation and using no potentially damaging mechanical fixings, together with being delivered to site precompressed in standard sizes, or of the sticks being precompressed to bespoke size, means that it is extremely useful for a great many applications. A common headache solving application is using the Emseal Colorseal system to safely and securely seal external, vertical structural movement joints that are required when major facilities are expanded, or when significant building extensions are added and they must be sealed against the original structure, and especially when they are also of variable widths. Emseal Colorseal is the perfect sealing solution.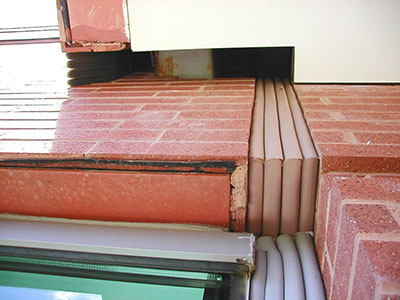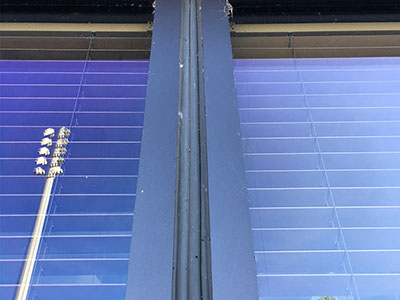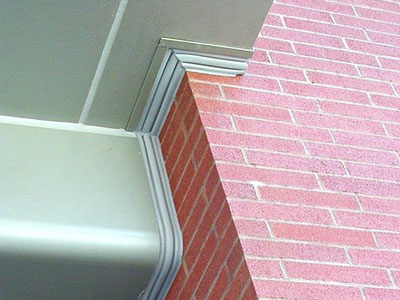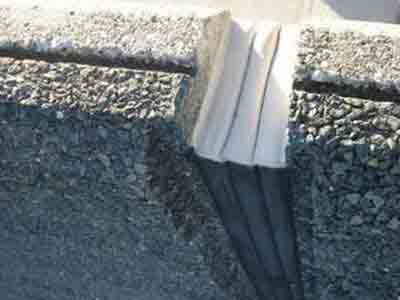 A particularly good example of this application was at the Guggenheim Museum in New York, when the major multi-storey building extension was added back in 1994. A recent inspection in 2017 confirmed that the joint is still watertight and securely sealed, reliably accommodating the necessary movement and exposure in the City after more than 25 years in service already, with the conclusion that it will continue to do so for many years to come.
For more information on the Guggenheim and other Emseal Project Case Studies please see our Emseal Case Studies page.
Emseal Seismic Colorseal was developed to restore the function of the building envelope where it must be breached by a movement / expansion joint. As a result, the performance tests required to certify curtainwalling and other building envelope systems were the basis of this development for the performance of Seismic Colorseal as well. Seismic Colorseal has been tested and exceeds the requirements of curtainwall performance testing in North America. Emseal Seismic Colorseal is also subjected to demanding testing in our own laboratories and elsewhere independently by UL/ULC and others, to confirm its Temperature Stability, Bleed Resistance, Staining Prevention & Cyclic Elastic Recovery – As with all Emseal systems, this extensive testing is designed to confirm and ensure performance under real life exposure conditions.
Emseal Seismic Colorseal combines factory-applied, low-modulus silicone with an open-cell polyurethane foam infused with a water-based, non-drying acrylic dispersion. The external-coloured silicone facing is factory applied while the foam is partially precompressed to a width greater than maximum anticipated joint extension and is cured before final compression. When fully compressed, a bellows is created in the coating. The bellows folds and unfolds during movement and so is virtually free of any tensile stresses.
The Seismic Colorseal is supplied precompressed to slightly less than its nominal size for ease of installation, it is then packaged in shrink-wrapped lengths (sticks) with a mounting adhesive on one side. The shrink-wrap and hardboard packaging are removed, as is the release liner covering the mounting adhesive. The product is inserted into the joint and adhered to one joint face. It then expands to seal the joint. Sealing against the substrate is achieved through a combination of the pressure-sensitive, acrylic based adhesive in the foam, the backpressure of the expanding foam and the field installation of a corner bead of silicone at the substrate-to-bellows interface.
Seismic Colorseal provides a watertight wall expansion joint, with joint movement capability of 100%, which generally means +/- 50% joint movement. Since no mechanical fixings are required, it is also almost completely tensionless in the joint, and as a result, it can be safely used in almost any building facade or wall substrate. In fact, these advantages mean that it is ideally suited to sealing vertical movement joints in virtually any substrate.
The factory produced Connection Pieces, T-Junctions, Crossover Pieces and Drip Details etc., mean that the Emseal Seismic Colorseal systems can be used to create complete 3-D multi-surface, multi-plane, movement/expansion joint sealing solutions. Not just for standard Building Envelope requirements, but also for those difficult areas that are often compromised , or that traditionally have been 'sealed' with rather unsatisfactory / multi-trade (always an issue!) combinations of materials in bespoke and complex built-up solutions that will always be very expensive and likely create points of weakness – However, with the Emseal Seismic Colorseal systems – 'One Install Does it All'
Product Data Sheet - View / Download
Emseal Seismic Colorseal – Summary of Key Product Features
Suitable as a Primary and/or Secondary seal
Watertight
Airtight
Thermally Insulating
Acoustic Insulation
Non-invasive anchoring
Low-Emissions
Resists hurricane force wind & water
Low-tension hybrid system
Practical on site
Rapid installation – for new or retrofit
Accommodates changes in plane and direction
Suitable for curved expansion joints
Sizes: Widths available from 12mm – 250mm
Note: Sizes <40mm are manufactured with a single silicone bellows and are supplied as 3M lengths on reels. Larger sizes incorporate multiple bellows and are supplied as 2M long 'sticks'.
Movement Capability: 100% (+50%/-50%) of width supplied size.
Colour: Range of typical 'building material' colours available to order, including special colours (if possible) on request and to order